Scroll down for the latest news on the fleet including maintenance and event reports, most recent at the top:
November 2018
To all of our loyal readers I must apologise for a calendar year of inactivity. Personal circumstances including retirement after 53 years at the coalface (and other distractions) has meant that you've seen no news.  I will put that right in the coming weeks with a summary of our activities in 2018 and an update on the vehicles – this will be short as they are running well and have only needed a wash and polish and level checks this year. Built to last these AECs!
January 2017
A new year but first let's look back at the last two rallies of 2016 before we went into hibernation!
We finished 2016's rally season with a great visit to the BUSES rally at Gaydon with both vehicles.  Another great event with a wide selection of liveries on display.  Alan Millar, BUSES editor, with his team do a great job in pulling this all together and with the British Motor Museum having such a lot more on display, it's a proper day out.
For fun we wound up an authentic destination on 524 which a number of people questioned.  Standard Telephones, who made all those wonderful bakelite 'blowers' that we were so familair with in the 1950s and '60s, had a factory in Paignton. DG ran the staff buses to the factory on the route 123 so yes, it's real!
Well paid jobs were in short supply in South Devon. Manufacturing has traditionally paid better than the service industries and there were not too many manufacturing jobs on offer. Standard Telephones and Cables opened its factory on the ring road in Paignton in 1956 and for decades provided good, steady employment. In 1986 there were 2,200 people working on the electronics assembly line and such was demand, a night shift was needed. In the 1990s staff numbers reached more than 5,000 when STC was taken over by Nortel.
Take a look at a sample of what was on site at BUSES:
Then it was on to the Showbus rally at Donington Park in September. Apart from queuing for what seemed an eternity to get in, it was a great event if not rather windy, with just a short shower to interrupt proceedings. We were joined by a journalist friend Mike Humble, big in BL/Rover Group et al products which of course has to include AEC.  I offered Mike a chance to drive 524 to and from the event, for various reasons we only managed the return journey with Mike in the cab and with a big smile on his face. See Mike's report here. Mike has a regular blog at AR Online.
Here are some shots of Devon General on display…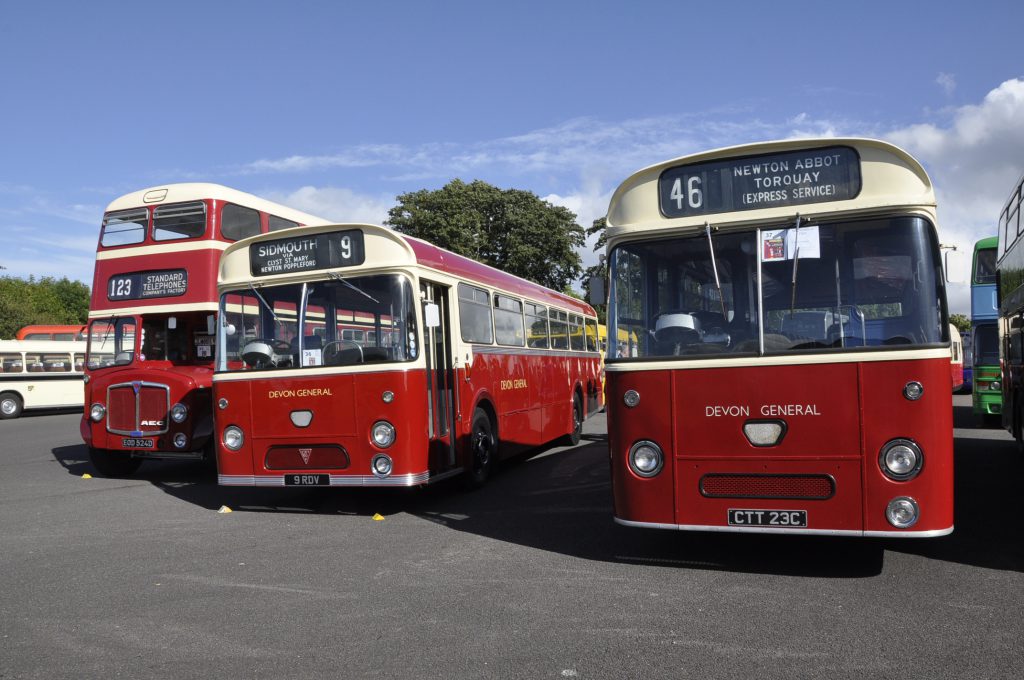 There was a lot to see at Showbus and being 'up north' it was not a London Transport takeover.  RMs yes but no by the score – one even won the top prize for the day having been returned to pristine original condition by its proud owners – RM291.
The detailing was exquisite but then if you're owned by a commercial coach business, the money and the labour is no object.  Not like us amateur preservationists!!
And here are a few more great looking vehicles that were on display…
And as part of the Bartons anniversary, a huge collection from this local fleet was on show following a road run…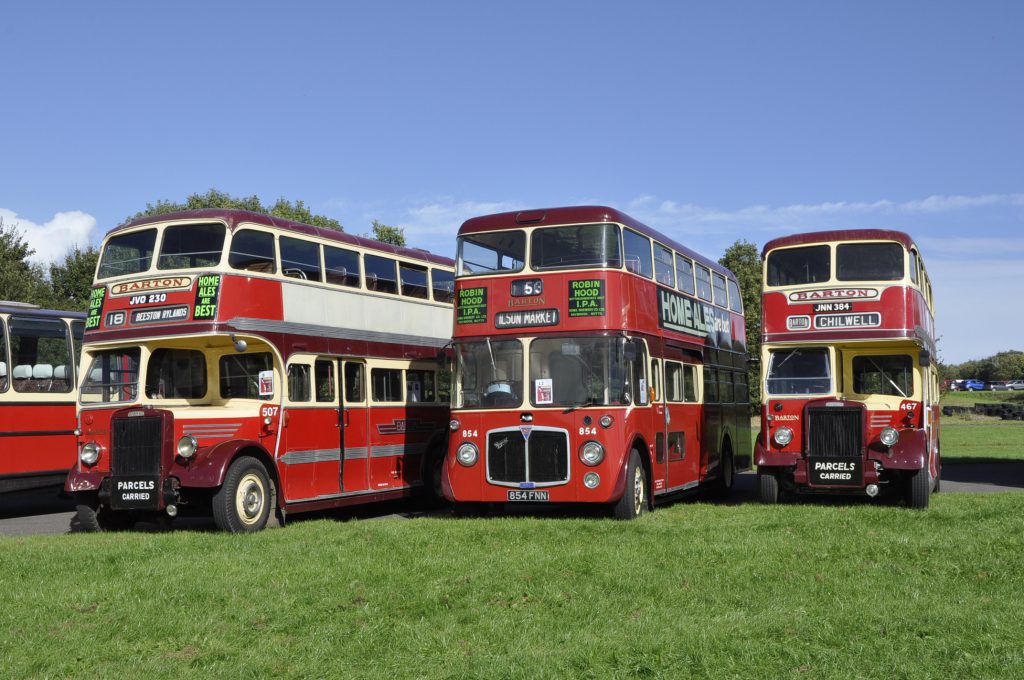 Keep an eye open on this page for our events list this year.  When we bring the vehicles out of hibernation we'll have a quick technical update and then see where these old girls will be taking us on the rally circle in 2017!
Enjoy the season…
August 2016
After a quiet start to the year, two rallies in succession!
Not much has happened since February as other commitments have prevented us from attending any rallies so far this year – apologies to all you DG fans if you've missed us.
Apart from a few maintenance tasks, trying again to fit an engine stop that actually works on 524 was annoying to say the least, we have focused on MOTs, an oil change on 524 and cleaning.
The new engine stop cable cable was fitted perfectly but when the knob was pulled it jammed, we simply could not free it.  A new, shorter (the first one was too long so had to be coiled behind the engine – maybe the reason for the jamming) cable did exactly the same until we realised that the lever that operates the stop valve was basically over centre and just wouldn't pull back.  Some infuriatingly simple adjustments and now we don't have to stop the engine with the clutch – a bad thing to do anyway and very bad for the clutch!
Both vehicles cleared their MOT's again this year with ease, whilst we were at Yardleys, our MOT home in Sutton-In-Ashfield, both undersides were greased, so much easier over the pit!
Since then we have concentrated on cleaning both vehicles inside and out.  524 was very much in need of a roof wash so we thought we would do it properly – and safely! Using Royston's snazzy new scaffold tower and platform made the job a doddle, we washed the roof of 524 in 30 minutes – 9 can be done from a smaller scale platform.  That left a wash and polish.
Now tomorrow it's off to the BUSES Festival at Gaydon with both vehicles.  A great day out, we hope to see you there. We'll put some pics up here after the event….
Then it's Showbus on Sunday September 25th. Take a look at http://www.showbus.com/ for full details, it looks like there's a great day beckoning! We are so lucky this year as Showbus comes to Donington Park, just 15 minutes down the road from 'home'. See you there!
2016 and spring is in the air
It's the time of year when we start to leave work in daylight – bliss! Winter has been mild but thankfully this awful period of dark nights and dark mornings is receding.  Meanwhile the buses have been tucked up in the barn since September with little or no work required after a successful 2015 running year.
9RDV has been running for a few years with no charge showing on the ammeter. We decided to take a look towards the end of 2015 with the help of Craig the electrician. Craig is one of those people you just have to admire. General maintenance is usually easy enough for most amateur preservationists – mechanical jobs, oil changes, brake adjustment, washing and polishing and even air brake work is manageable by most of us. But electricity, that invisible energy with a sting in it's tail – not for the faint-hearted! Step forward Craig!
Craig took a look at the alternator and control system. No visible problems just no charge at the ammeter. Initial observations were inconclusive so why not take a look at the alternator, was it actually charging? So on a cold winter's Saturday morning (why do we do these things in winter, cold concrete is not welcoming so tea (and coffee for Royston) keeps us alive.  Alternator off in surprisingly quick time. Let's clean it up before it goes off to Mr Wyatt down the road, anything electrical, with a (kind of) smile.  A week later, it's pushing out 60 amps and in good nick says Mr Wyatt!
Where do we go now, it must be the control unit or a duff ammeter, unusual to find a duff instrument.
So the alternator is back on the bus, painted and looking like new and now awaiting Craig who has acquired a CAV circuit diagram for an AEC Reliance. Also he can get a CAV voltage regulator from eBay for £20 so he is going to bring both items to try and fix our problem as soon as he can.  'Craig'll fix it' in March – hopefully!
Rallies in 2016
We are still contemplating the season.  I fancy the GWR at Toddington, maybe the Peak rally where we won prizes in 2016.  Come back soon, we will have made up our minds by early March!
September 6th 2015 – Our next event is the bus gala at the Severn Valley Railway's Bewdley station. See Events page.
August 23rd 2015 – BUSES Rally at Gaydon
The day dawns bright and Royston arrives to pick me up in 9. I drive the final leg to Gaydon where it's already busy. We line up easily next to the wonderful Midland Red LD8 from Wythall. Immediately Alan Millar, BUSES editor comes over and asks if we will help with his video of the day. Of course so ten minutes later 9 is in front of the camera with Alan and I chatting about Devon General and all things 9 RDV and its sisters. We're also going to assist the cameraman with some activity back at base as he simply won't finish the job in a day at Gaydon. We'll report on that at the time.
With a good look around the stalls both in and outside of the building it starts to get a bit dull and then the rain starts at around 1pm, quite heavy but it passes by around 3pm. There's a lot to see here and it's bigger than last year. More buses and more people. I bump into Michael Walton who heads up the commercial side of Transport For London and it's wonderful museum shop in Covent Garden. We discuss the world of model buses and how it's taking a slide with far less new models arriving on the scene and, apart from Oxford Diecast, not too inspirational either. I manage to find several more photos of Cardiff trolleybuses that I don't have which is a miracle, the collection takes up half the house and half of my computer hard drive. People are leaving so we head off at 4pm after an enjoyable day and look forward to Bewdley on September 6th.
August 23rd 2015
Where have we been you may ask?  Very busy in the day job and I don't care who disagrees but time is really flying by much faster than ever – is it really September this week? Sorry for the delay so let's get on…..
So – we put the buses away for winter just before the last report and we thought, without problems after a successful running year. Come spring of 2015 and preparation for the new season we decided to take a run out in 524 for some fuel. The nearest Tesco has a low canopy but we can get alongside at full height and with long hoses stretching to the filler, in it goes, enough to get us to our first rally at Rowsley in the Peak district. I jump back in the cab and notice something which makes my heart miss a beat – the flag is up, air is low (no brakes) and the engine is running.  So here we are at Tesco with no brakes and a 3 mile journey back to base. Nothing for it but to drive very carefully and use the handbrake.  Fortunately it's all either flat or up hill so with no choice, off we go. Nobody notices!!
No dramas and safely back in the barn, we are all ears.  Is there a leak – no we can't hear one – why not? No air in the tank! We shut down the engine and make a cup of tea, that normally fixes everything. We start the engine again, low and behold pressure builds but then the air valve blows off at very low pressure and the flag is still up – it's the valve.  So we need a new one.
Without going through a boring diatribe about what happened next – we couldn't find a new valve  so bought a kind of replacement, but that didn't work. While this is going on, the steel pipes have been cut the help insert the new (not working) valve.  Then after some detective work we find a reference for the old valve and hey presto, we find one via friends in the Potteries. Great, it will fit straight in – or would if we hadn't cut the pipes back.  So we buy some fittings, some flexy pipe and hook it up.  All very stressful but it works!
Peak Park Preserved Bus Gathering 2015
By now we have gone through several weeks of trauma, no air means nowhere as far as rallies are concerned but now 524 is running again we are ready for our first outing at Rowsley for the Peak District rally. We take both vehicles and half my family including my nephew and his dog, both new to classic bus travel.  Not only is it a great day out with a train ride to Matlock and a nice cuppa and a cake in a good old fashioned tea room overlooking the river – but without even thinking too much about it we win two awards – best double decker with 524 and overall winner with 9. Not a bad day out then – and it didn't rain and the sun shone. Only downside was that the café back at Rowsley, where we have another cuppa while the awards are given out, had run out of Eccles cakes, my favourite and usually available there!
After Rowsley we had two more rallies planned, BUSES at Gaydon and the lovely little event at Bewdley where we intend to take both vehicles again.
So in mid August we cleaned up both vehicles and got ourselves ready for the BUSES event. In the end we decided to take just 9 as the weather was forecast with heavy and thundery rain – move up the page.
December 15th 2014
Sorry followers, it's been an age since we had an update and I could give you many excuses about being busy but it's a combination of that and the fact that I have lost a chunk of my photos on a memory card.
We finished 9 in time for the rally season and it has received many accolades for it's authenticity and above all, its fab paint finish courtesy of Ashley Blackman. If you need a vehicle painting authentically with a paint brush, you have nowhere else to go! Visit his website, soon to be up and running: www.ashleyblackman.co.uk
Our first formal event was the AEC Rally at Newark in May. Royston took her along but was disappointed at the lack of buses as opposed to trucks. Nevertheless, 9 took pride of place in the exhibition hall representing AEC PSVs.
Next up was a visit to Wollaton Hall for the local East Midlands Bus and Commercial Rally on June 1. We have attended this event for a number of years with one or both vehicles but again it was the turn of 9 this year as I was away.  Plenty to see and lots of stalls to take your money!
Meanwhile we were getting 524 out of hibernation as it was MOT time. As it happened both vehicles sailed through their tests.  524 is running well since its gearbox rebuild but its top speed of 39mph downhill with the wind behind it rather stifles its use for long journeys. We have made a decision not to travel too far with it for the foreseeable future.
The big journey of the year was our trip to Exeter in 9. This year 9 is 50 just like the Exeter Coach Station so we decided to join the party.  After a good prep with polish, tyre paint, a full tank – we recommend Redex for diesels if you take a long run – and a lick of tyre paint we were off.
We had a great run to Devon, no mishaps or problems with running and after a short tour of the surroundings, perked up for the night at our hotel. Waking up to sunshine we arrived at the coach station to join a significant number of vehicles and sunshine.  We had offered a few trips out during the day on the short 9 route to the roundabout at Clyst St Mary.  Full loads from an official bus stand on the bus side gave us some great pictures (more in the album) with smiling faces in the seats.
As neither Royston nor I have a PCV, we asked 9's previous owner Steve Cope to drive.  Steve knows 9 like the back of his hand and proved to be a caring, safe and tuned in pilot! All enjoyed their trip.
At the end of the day we decided to run to Sidmouth with a few friends, following the old 9 road all the way. It was great to arrive at the Sidmouth turn round where we parked up for photos.  But shock horror, on trying to restart, nothing. Just a click from the starter. Marooned in Sidmouth?  We checked underneath, was the starter jammed – no!  While Royston dug out the file and the recovery company number I had second thoughts, pulling the lid up on the battery box.  Starring me in the face was a well corroded battery terminal, covered in blue 'fir'. Spannered off, a good cleaning and back on and tightened and thank goodness, she started. Recovery stood down.  Back to Exeter and a well-earned bath, a pint and a meal in that order and an early night beckoned.
A good run back to the Midlands and 9 was safely back in the garage by late afternoon.  A great weekend and nice to be back in Devon.
Our final big one for 2014 was the new BUSES magazine Festival event at Gaydon on August 31st, the home of the Heritage Motor Centre. We were asked by the Editor, Alan Miller, to take both vehicles. Happy to oblige, following more polish, clean windows and the blessing of an extended summer, I took 524 home on the Saturday to save time.  Unfortunately the tacho drive failed en route so I was driving blind.  Royston brought 9 over next morning and we set off in convoy for the short trip to Gaydon, arriving as team Devon General.  The event was very well attended with a number of new vehicles on the rally circuit to be seen.  A great event and promised to return in 2015.
So now its hibernation time again. Work for the winter will be to get the speedo working again on 524, preferably via the original instrument, discarding the ugly tacho.  We would like to do the same with 9 which will require an adapter for the pulse generator for electric speedo – no cable!  The big job on 9 will be to replace the side window rubbers. They are hard and ill-fitting but their removal will allow us to complete the repaint with a rework of the cream band.
So that's 2014 – here's to the New Year!
May 18th 2014
Bob Follwell – we have lost a good friend.
A lot has happened since our February update but the most significant was the very sad news of the death of Bob Follwell, Devon General enthusiast, collector of DG vehicles and a thoroughly nice man.  Bob died suddenly while out riding his mountain bike, the result of a heart attack.  Bob was a well known bus enthusisat and a good friend of Royston and myself.  He owned a number of DG vehicles, best known being Earl Howe, the open topped Atlantean. Bob also owned 524 at the time of its restoration and the hard work that he oversaw on the vehicle has stood her in excellent stead ever since. In fact Bob was just one week away from helping us to reinstall 524's gearbox when the tragic  news was received.
Bob was a great engineer who would turn his hand to making or mending anything, not just buses. A gentle man and a real gentleman, he will be sorely missed by many people and particularly so within the preserved bus fraternity.
9 back on the road but we still await 524's return
We plan to put 524 back on the road within the next few weeks but meantime we have been finishing 9 in readiness for its 50th birthday in June and debut at the AEC Rally in Newark on May 25th. Now in as delivered livery with all correct vinyls, blind box returned to original condition (numbers on the nearside), new number blinds and restored destination blind, she looks pristine. 9 will also travel down to Exeter for the 50th Anniversary of Exeter Coach Station on July 5th – two birthday celebrations in one!
Here are a few pics of 9 in her new clothes – more to come when we can get out onto a photo shoot:
February 17th 2014
9
Painting continues with the second gloss coat on the lower panels and first on the cove panels.  The finish is superb with a really high gloss and no brush marks.  We've decided to paint the domes as they have runs in the original paint and look poor compared to the new red finish.  So rubbing down begins again!
We have removed the front destination screen and old rubber, hardened to a crumble when removed.  Taking another good look, we have decided that it may be easy to reverse the blinds to their as delivered condition with the numbers on the passenger side.  So out has come the apparatus for both blind sets and the destination box has been cleaned and painted white.  The number blinds have been removed for cleaning and the mechanism stripped, cleaned, regreased and re-assembled. Nice and slick now.  Another coat of white paint and we'll see if it will go back together t'other way round.
524
Withh the gearbox refurbished with a new withdrawal bearing and adjustment of the synchros it was time visit Devon again to collect it.  This time, the services of a very nice Jag XF Sportbrake were utilised and guess what, it 'just' fitted inside. A more comfortable journey home than the van.
Now we have to refit that too when the weather gets a bit warmer.
February 1st 2014
First 9:
Following an extensive preparation programme, the painting of 9 has begun!  Ashley Blackman is meticulous and did the final preparation before applying the first of two coats of undercoat, each rubbed down when dry.  Several days later the first top coat was applied – all this with a 4 inch brush, the paint applied quickly initially then carefully brushed out to a fine smooth finish, brush marks non-existent!  While this first top coat hardens we have been applying some cream touch up around the doors.  The roof and cream around the windows will wait until we replace the window rubbers over next winter. The front dome will see the blind box glass removed, the blind mechanism cleaned and tidied up and a new rubber fitted before the running season.
Ashley will return soon to apply two more top coats which will be allowed to harden before we apply new fleet name/number and legal lettering vinyls. Then we refit the lamps and other body fittings, grilles, etc.
The round front side lamps are common to many AEC, Leyland and other products, including the Routemaster, but when we removed them, the rubber gaskets that hold the lens had hardened and crumbled when disassembled.  After some head scratching, an evening trawl through eBay stumbled over remanufactured items newly available from Ray Trigg.  They are of excellent quality and are highly recommended! Here's a link to Ray's eBay page: http://stores.ebay.co.uk/TRIGGPARTS-TRUCK-AND-BUS-SPARES. Search for AEC sidelight gasket.
And 524:
Thanks to a great job down in Devon by Sam Merrifield, 524's gearbox is rebuilt.  It needed some adjustment to its synchros and a new bearing in the clutch withdrawal housing so let's hope that's cured the 'rumble'. The box will come back from Devon mid February.
December 28th 2013
See the new pics in the stories below.
Late news just in – following an unfortunate altercation this afternoon with the DA sander, 9's Potburys ad is no more! May it rest in peace with other great bus industry ads of yesteryear…..
December 27th 2013
It's been a while – since August in fact!  Here's an update on all things since August including our wrestling with ratios and that dreaded squeak!  But first a couple of pictures from earlier events – The AEC Rally in May where we see 9 alongside Colin Cowdrey's fine Regal:
And at the Wollaton Park event in June:
June 26th 2013 – The Tudor Grange Prom
524 leaves home base for Solihull:
Ready to go!
And now for a more in depth report on the last quarter of 2013:
SVR 'On the Buses' – September 8th
September started with our annual visit to the Severn Valley event.  After a full clean and polish it was the turn of 9 as 524 continues to rumble.  We travelled home to Solihull on Saturday the 7th with 9 again becoming a friend of the neighbours while she sat outside the house all night.  The 8th dawned bright and we had a trouble free run to Bewdley, arriving at 10.15 to park up alongside several other very nice single deckers and an excellent line up of Birmingham standards with Rob Handford's specimen taking pole once again.  This year's obligatory train ride took us to Highley and the Engine House once again to see that excellent line up of 'out of ticket' steam and lots of memorabilia.  It really is worth a visit.  On the journey home, 9 yet again annoyed with her dreaded tinkling sound from the front end ancillaries.  There really has to be something wrong in that area as after replacing the escaped crankshaft pulley nut, she still makes that infuriating noise.  As this will be 9's last but one run of the season, that job is next on the list for the winter maintenance programme.
Showbus at Long Marston – September 22nd
Our plan was to take both 524 and 9 to Showbus, taking advantage of the short journey in comparison to Duxford.  In addition we were planned to sit in the MCW group with 524 having been built with the last set of frames from Addlestone's Weymann works.  A test run changed our mind as the gearbox noise was getting worse – definitely a bearing on the way out, by now rumbling badly on light throttle.  No point in blowing up the gearbox as they don't exactly grow on trees!!  So 9 would fly solo.
Long Marston airfield has certainly seen better days and although there is plenty of space – too much as it turns out with vehicles spread over a vast area of the shabby establishment – it isn't the most pleasant place to hold a rally.  This was once a World War Two airfield, an operational training unit flying Wellington bombers.  Maybe the ghost of those fine flying machines that won the bomber war (not the Lancaster!!) should return to Long Marston and finish off what jerry tried to start, obliteration of this worn out site. We look forward to another venue in 2014 and beyond.
Facilities are virtually non existent, buses are parked the wrong way around for good photography and there are many gaps where non-arrivals should have been.  The only saving grace were unusual vehicles from north of Watford and only a fine sprinkling of Routemasters (we leave that to the 60th anniversary in 2014 where we can 'OD' on those fine machines).
No problems with 9 apart from that wretched tinkling noise and a pleasant journey home through the Warwickshire countryside.
So that was the end of the rally season for us and the start of maintenance.
A repaint for 9
A super bus but her paint job is definitely not up to the Morgan/Chick quality level.  We've done a lot of work on the old girl in a year, particularly on the inside which is now as good as in can get apart from a full rebuild!  On the outside, there are lots of brush marks and very thin paint in too many places – even bleading through to the undercoat – needed some drastic action and a damned good painter.  We are simply not up to producing the finish that 524 exhibits so to the rescue comes Ashley Blackman.  Ashley has that amazing knack of taking a paint brush and creating a glass like finish with many coats of primer, colour and varnish.  His handiwork is legendary!  So after a couple of phone calls and a visit to view his canvas, Ashley agrees to tackle the job.  Red (the bottom half plus cove panels) only for the time being but that's most of her anyway!  The cream will wait until we renew the window rubbers.
If you're reading this Phil, I'm afraid the Potburys advert has lost its case for staying put.  I know it cost money but it's not original to 9 and do those locals in Sidmouth (apart from the octagonarions-plus) really appreciate it? I doubt it somehow – and anyway, 9 delights it's Midlands audience much more these days, they all say 'Potburys, is that original'?
Painting is one thing BUT, Ashley needs us to do the hard graft of rubbing down, a critical part of getting the job done properly and worth the investment in time and elbow grease!  So Royston tracks down an air operated DA sander, I buy a 'mouse' sander for the corners and the less accessible bits and we get to work.  Royston breaks the back of the large panels while I ferret around in the corners.  Dust everywhere and frowns from our bus friends at the farm as everything takes on a reddish hue but it's worth it!
Several weeks later and with a little more work and the cove panels to complete and the panels are looking really good.  No need for the dent man as the panels are all flat and a good canvas is provided for the artist to begin, hopefully in the new year when the weather is a little more clement.
524 and that rumbling gearbox
So major surgery is the order of the day for 524.  The gearbox has to come out following a great offer from our friends in Devon to help with a rebuild.  First is removal, a steady job that can be accomplished in one day with a variety of spanners and a few grazed knuckles.  Trouble is that its heavy and unwieldy so will need some kind of tackle to lift and drop it off the engine, having jacked up the front to aid removal from underneath.  To our aid comes our knight in shining armour, Bob Follwell.  Bob and a few friends saved 524 originally back in the late 80's, rebuilding her to the fine fettle in which she has lasted until today.  Since then Bob has gone on to rebuild a number of DG vehicles to an equally fine condition.  Bob brought along a lifting frame to aid removal plus his help and guidance, all of which we are very grateful for.  In no time the gearbox was resting on the floor ready for shipment down to Devon where Sam Merrifield, ex DG engineer and expert on all things AEC, would work his magic.  The 'box was shipped down in mid December and we eagerly await the prognosis!
So that's another year in the life of 9 and 524.  In 2014 we shall be out celebrating the anniversary of 9 – yes she will be 50 next year and in finer fettle than some members of the same age!!  Watch out for update and rally details – I promise more regular in 2014!
A Happy NewYear to fellow bus owners, enthusiasts and friends from the Devon General duo in the Midlands!
August 19th 2013
With apologies for a big gap in news this year due to 'busy days at the office' there will be a comprehensive update to this section before month end. Over the next few weeks we will be trying to track down a vibration in the transmission on 524 and a 'tinkling' noise from the powertrain on 9. Both are infuriating and both are baffling us.  We need to sort as we will be visiting the Severn Valley Railway 'On The Buses' event on September the 8th with 9 and Showbus at Long Marston on September 22nd with both vehicles. Lots to do so come back in a week or so for that late update.
May 24th 2013
Just a week since Llandudno and now it's time for the MOT for 524.  The bus is the star of my daughters school prom in June so we'd better get through.  She starts first time at the farm and having not moved since the autumn of 2012, needs a bottom wash!  Royston is already scrubbing when I arrive but she looks better for a quick shower.  We're off to the old haunt again, Yardley's in Sutton In Ashfield.
We arrive in time for our 12.00 appointment and guess what, she sails through – brilliant brakes and no smoke, what more could you want.  Some pictures in the can for the record and the presentation of a couple of shots of 9 from its last MOT to the ever friendly Yardley's staff – for the wall – and we're off back to Risley.
Here are a few pics – note me at the wheel pulling on the handbrake for the test – a hernia in the making!
Royston is off this weekend to the AEC Rally at Newark (on May 26th) so look out for him.
May 12th 2013
Llandudno was a resounding success. We started our journey on May 4th with Royston driving a pristine 9 from Nottingham to meet me on the M6 at Keele services.  This was a family trip so we were taking the car for transport in Llandudno.  Once on Bodafon Fields, it's difficult to get out and about with the car.  My wife was very lucky as she was about to celebrate her birthday on a bus rally – it went down really well!!
Unforunately although the weather forecast was fine, 9 was caught in a heavy downpour on the A50 so our hard graft in getting her shiny was somewhat dulled.
The ladies went ahead in the car as I took the wheel for the leg to Llandudno.  We stopped not far from our destination to give 9 a quick wash so that we would at least arrive looking ship shape.  It wasn't long before we were turning into the showground, passing a long line of interesting classic and more modern buses on the town shuttle.
Here are a few shots of vehicles running the shuttle in what was by now, glorious sunshine:
On the Sunday evening we took 9 on the road run around the Great Orme. CVs are normally banned from this single track one way road with double deckers taboo because of overhanging rocks in places.  The weather was beautiful with views for miles.  Here are some images:
And finally…..
March 16th 2013
A very quick update on the wheel hub seal.  It was very cold in the barn so we got on with the job very quickly. With the help of friend Bob, we pulled off the hub (it's a very big spanner job!) and had to strip and clean the brake linings which were very contaminated with oil.  Amazing what brake cleaner will do though.  New seal fitted and hub back in place and the job looks good.
The following week we pulled off the offside brake drum and cleaned out the drum and the linings.  All looked good so it all went quickly back!
Men at work shots:
February 24th 2013
In a very cold barn we hurriedly put the cam covers back on last week and very nice they look too.  If you have any shotblasting/powder coating to do and you live in the Midlands, try Redditch Shotblasting http://www.redditchshotblasting.co.uk/ for a quality job at a sensible price. Now we just have to paint the rest of the engine to match!
While shunting vehicles in the barn we spotted an oil leak from the nearside rear hub bearing seal.  There's a nice job to look forward to (we'll show you the process in full technicolour) when the weather warms up.  We have a seal but not the inclination at the moment….
January 3rd 2013
'It's been a while' as they say since the last update but we're in hibernation.  Who wants to work on cold metal in a freezing barn (actually today has been amazingly mild) on short days when we can look forward to the spring and lighter evenings – well we do, just a bit.
524 is snuggled up awaiting those warmer days with no major work necessary.  My good friend Royston has become the proud owner of a scaffolding tower with which he can fulfil a dream of several years – painting 524's roof.  That's actually done with a brush of course and not the tower itself!  It's been looking a bit 'thin' (unlike the owners post Christmas festivities and too much food) but as that needs those milder, drier days, we have that task to look forward to.
524 is suddenly deemed a friend of the family as it awaits a very important event in June, my daughter's school prom.  Well, not many Dad's can take daughter and friends to their school prom in a double decker bus.  Beats that boring long line of stretched limos any day!
9 on the other hand has been giving us food for thought in the 'power' department. It seems underpowered on the hills, like a spot of fuel starvation.  So we've taken a look at the pump timing – spot on – and adjusted the tappets – a few clearances up or down -sometimes a reason to be down on power.  While we had the rocker covers off, we decided to have them cleaned up and powder coated so she's left with her top off for a couple of weeks.  Here's a nice picture or two of the valve gear for your delectation:
The other little job underway this evening is a look at the fuel gauge. It doesn't work.  Quite an intriguing mechanism though where the gauge needle is sitting isolated behind glass on the outside while being driven by a magnet from the mechanism inside the body within the tank.  Looks like it may be a stuck needle – I will find out just after this post is made! Here are some shots before I start:
Late night update – the needle was stuck on the spindle.  Quite intriguing as the needle free floats on a spindle powered by the magnet through the case.  A drop of WD40, clean, strip and repaint the housing and she's as good as new!
September 9th 2012 – MOT success then off to Bewdley
9 flew through the MOT thanks to the kind people at Yardleys. A bit of brake unbalance at the rear nearside comes from a slight hub seal leak contaminating the brake shoes, nothing that a bit of winter maintenance can't cure.  Since the MOT we found a nice shiny new hub oil seal in the locker so no problems there, except, no doubt getting the wheels off!
The team at Yardleys understand old vehicles so if you need an MOT, go and see them in Sutton In Ashfield.
So on Saturday September 8th it's spit and polish, touch up the tyres, check the fuel, set route 78 in the blinds to Ottery St Mary by special request and take her home – actually drive to Solihull and park her outside the house overnight.  Makes Royston's trip from Nottingham a little speedier in the morning.  The neighbours love it outside the house, fortunately in a cul de sac so not much traffic.
Sunday the 9th dawns bright and warm, it would be the last day of summer. Off to Bewdley, an easy trip on a Sunday morning to a great reception and some lovely vehicles on display.  Sales stands to visit and a train ride, first to Kidderminster headed by Southern Railway rebuilt Battle of Britain pacific, Sir Keith Park. This newly restored machine from the Swanage Railway looked resplendent in the sunshine, with it's nice three-cylinder beat and soft exhaust a complete contrast to the SVR's staple diet of barking Great Western locos.
Our return journey to Highley was surprisingly hauled by diesel-hydraulic Warship class, Greyhound. Lovely sound from this classic Western Region machine in the unique spirit of the GWR.
A picnic in the sun followed by a cuppa at the Engine House museum and we returned to Bewdley to saok up Dave Handford's beautifully restored Birmingham standard Guy.  Much nicer than the day it left Elmdon works!
So after a great day out, it's off home in the evening sun.
August 5th 2012 – a quiet few months then Bewdley on Sunday September 9th
The weather and personal availability has seen a couple of quiet months for the DG men.  9 needs an MOT which should be done by week ending August 10th.  Hopefully there will be no problems, at least she was taxed in June!  Plan then is for a possible visit to the NARTM event at Wythall on August Bank Holiday Monday (27th) – The Big Bus Birthday Party!  Hopefully there will be space for 9. 
We are definitely booked in for a very friendly event – On The Buses "Fares Please!" Classic Bus & Coach Day, Bewdley Station, Severn Valley Railway on Sunday September 9th. It's small but with beautifully formed buses attending and you can take a ride on the best steam railway in Britain too!!
June 16 2012 – Peak Park Preserved Bus Gathering
A nice day for once, no rain, and both 9 and 524 are out on the road to Rowsley on Peak Rail.  Situated just above Matlock, Rowsley is the HQ of the railway – we visited last year with 524.  And to our pleasant surprise, 524 won the Best Classic Double Decker award for the second year running! Pictures in the Album.
June 3 2012
Pictures of the AEC Centenary Sunday have been added to the album.
Sorry but we didn't make the Wollaton Park event today.  With such atrocious weather it wasn't worth it. We feel sorry for the organisers but that's life I'm afraid.
May 27 2012 the AEC 100 Rally
What a great day, wonderful weather, nice people (getting in wasn't such fun with a little disorganisation and one rude 'officer' of the Society who could benefit from a little customer care!).
524 and 9 met up with sister 23 with Bob Follwell at the wheel. Our three DGs parked together and provided a good 'photo op'! There were many fabulous AECs on show, see a few in the Album.
It was also good to see a visitor to this web site, Jim Humphrey. Jim drove both 23 and 9 in his days with DG. Jim was based at both Exmouth and Sidmouth depots, 9 spent most of its days on routes in the area.
There were plenty of sales stands selling parts – I will never cease to be amazed at the number of new old stock items that continue to surface in the world of classic commercials.  There were disappointingly few other stands, particularly for the must have photos of our vehicles in service in the old days.
Thanks also to Phil Platt who brought along a wonderful album of photos of 9 for our archives, including ex Marshall shots of the vehicle when new. After a period of scanning (when I get around to it) they will take a proud place on the 9 page? Keep an eye on What's New.
We returned home to 'Risley Depot' with a few little investigations to make. Why does 9 make a strange 'tinkling' noise from the area of the transmission, an engine speed related sound? She may also need her clutch bleeding as when hot, gears get a little difficult to select. And we need to fit the new mudflaps as a cosmetic finishing touch.
Bear with me as the photos from the rally may take a few days to add.
May 26 2012
Pics of the SMMT Test day with 524 and the road run with 9 preceding the AEC 100 rally have been added to the Album
May 25 2012
All ready to go to the AEC Centenary event! It's 9 for the road run on Saturday then both vehicles to the showground on Sunday. Sunshine and AECs – what more could you want?
May 24 2012
524 attended the SMMT Driving Day at Millbrook today. This is a driving day for motoring media and is attended by several hundred media and all the major motor manufacturers. As PR Director for Vauxhall, Denis decided to take 524 as the company's hospitality unit! It went down extremely well and provided as much ( I think more) interest than the latest and greatest motors from the manufacturers, except Vauxhall of course. Photos from this and the Centenary rally to come soon.
May 13 2012
After a wash and brush up we thought it was time for some pictures for the family album so take a look at the Album page for a day in the country.
May 7 2012
We've added a Links page. Here you will find web pages with a DG angle, from the DG Society to models and pictures of DG buses. Enjoy.
April 28 2012
Visit the Album for a range of pictures from 524's first day in service to the start of restoration.
An update on 9 appears in What's New plus a few words on 524.
EOD 524D
April 28 2012
First job before work on 9 was to get 524 started.  She's due for an MOT in May so let's see if she goes after several months in hibernation.  After bleeding the fuel system and a few turns on the starter she's away with no problem and hardly any smoke.  Next thing will be a check over and then MOT.
524 is visiting Millbrook Proving Ground on May 24th as the hospitality vehicle for Vauxhall at the SMMT Test Day. This is a big media event where the press come along to drive the latest cars from all the UK manufacturers.  With Denis working for Vauxhall, what better way to show the journos our lovely double decker and reveal to all that we're just a pair of bus anoraks at heart!!
April 8 2012
524 has been hibernating over the winter of 2011/12. Since we stripped and rebuilt the rear axle with new bearings no work has been required apart from a tidy up of the front wing on the nearside where the metal worm has been at work. Royston, as chief coach painter, has put his tin of best quality Madder (Edinburgh's best and Devon General's maroon as far as we are concerned) and expensive brush to work. 524 now needs a good wash and polish before she sees daylight again.
9 RDV
April 28 2012
Just a short note today as we only had a couple of hours at the farm.
We still had to adjust the doors following last week's refitting as the rearmost door would not close tightly against the frame.  This was the source of an infuriating rattle, with the door flapping about on our return from Devon.  Removing the cover concealing the door operating mechanism reveals adjustable link rods – a bit like adjusting steering arms.  Unlock the nuts at either end and turn the rod to pull the door tight onto the frame.  No rattling as a result.  Problem was that the adjustment was bottoming out on the thread with not enough travel to pull the door in tight so we had to make a mod – gentle use of the hacksaw to take off just a quarter of an inch from the threaded boss. Mod worked!  Now we have nicely refurbished doors that shut beautifully.
Another coat of varnish on the floor and we have also started on the upper brightwork.  A thankless task but only the nearside to do now.  AEC 100 beckons but we'll get there.
Shame but we have put off attending the first big of event of the year (by car) as the weather forecast for Wisley (Cobham to the old stagers) is atrocious and not worth cost of that liquid gold in the tank.  Let's hope some locals make it to see the Borismaster!
April 22 2012
It's a race against time now to get 9 presentable again for the AEC 100.  We've spent some time and lots of elbow grease on the inside.  Scrubbing almost 36 feet of floor is a thankless task – until you see the results.  We parked the bus on an angle on a slope, opened the emergency door and by scrubbing the floor from front to rear and using a hose we got rid of a whole lot of dirt. with a waterfall out of the door!  The result is a transformation – it's super clean and you can actually see the colour of it too.  After leaving it to dry for a week, the floor has been given a coat of satin sealer.  Makes it easier to clean but above all it looks really smart!
Still touching up the paintwork but the other big job has been to refit the doors.  They needed a good refurb as the swivel bearings top and bottom were well worn with no circlips present to keep them 'tight'. We've sorted all that but also took the financial plunge and renewed the door nose rubbers.  Baines came up trumps with the rubber section but played the joker with the price – £40 per door length!!  One of the rubbers was split along its length so why spoil the ship for that infamous 'haporth' of tar!  The doors now need a little adjusting but work very smoothly.
All we need to do now is to Brillo the upper brightwork and fit new mudflaps – well I say all…..we then need to wash and polish the beast!
More pictures to follow soon and we're preparing a gallery of historical shots to take us back in time for both vehicles so watch this space!
April 8 2012
Since 9 arrived back in the Midlands for the second time in October 2011 – this time under new ownership (ours!) – we have concentrated on the cosmetics. Her previous owner was fastidious with the mechanical bits but following hard use over a number of years, the inside was untidy, dirty and needed Royston's paint brush!
First we cleaned up the underside and applied a good coat of silver to the chassis and relevant mechanical parts. A coat of AEC grey now adorns the valve covers and cylinder head with various details picked out as necessary. The left valve cover now boasts a nice new enamel AEC badge, the right way up! While we were underneath, the inside of the underside access doors were matched in silver and the red edges tidied up. The two front grille rubbers (little and large) were renewed and all the front end brightwork treated to a good scrub with a Brillo pad (Sainsbury's own brand – nice and cheap and very effective!). These really work on aluminium trim, especially when finished off with 'Brasso for aluminium and silver'! Much to the annoyance of 'the boss' at home, the front grille panel, having been removed, adjourned to the lounge where the rubber was replaced on a suitably covered up carpet – on Boxing Day!! Would you work in -10 degrees Celcius in a barn? Since then, all the lower brightwork has been cleaned in the same way, a labour of love but my, 9 looks much better for it! Both front and rear number plates carry a very valuable registration number so they were treated to a strip, polish and repaint and the acrylic rear lamp lenses were scrubbed clean then sprayed with car style top coat clear lacquer to cover up scratches (it works a treat) while the sub zero temperature precluded any work at the 'depot'.
Whilst tidying up at the front, new headlamp mounting chrome retaining rings have been fitted and the rubber sealing rings given a good clean – again Brillo worked wonders. The fog lamp was badly rusted so a strip and refurb and its like new again. While I'm fitting this, Royston has his head in the boot painting the inside of the doors, now just like new again too!
While painting was on the agenda, Royston continued, his paintbrush worn out on the seat frames and cab metalwork. Denis (who is the detailing king) replaced all the washer piping and jets, bought/refurbished and matched up the mirrors and external mountings with new parts (courtesy of the wonder of eBay), fitted a new driver's sunblind, refurb'd the 'modesty' blinds behind the driver and the tax disc holder and various bits of metalwork in the cab area. eBay came up trumps with replacement wiper arms and stainless blades to the original design (or as near as we'll get – very close according to early pictures) and we found some new tail lamps in order to replace the damaged chrome surrounds . It's amazing what all these details do to the finished vehicle's authenticity and originality and very satisfying to find at a very reasonable price. Luckily, when you're bidding for such obscure parts, you're rarely up against too many others so prices can be very keen. NOS is still there if you dig deep enough – sorry, for you classic car/bus plebeians out there, NOS means New Old Stock found on dusty shelves at the back of the stores – and the price has gone up, sometimes even from good old-fashioned LSD to new pence!
The driver's seat had to come out for refurb too although it did its best to stay firmly stuck to the floor – a retrim and making the height adjust mechanism work seemed long overdue. The driver's seat is the first thing you look at when you climb on board so its poor state needed attending too. Luckily we had some nice blue vinyl and a trimmer who works on site at the 'depot' and what a great job he's made of it.
Whilst were looking around one day over a welcome cup of tea we noticed that the rear windows were near to popping out of their rubbers in the lower corners. A visit to the piggy bank told us that we could afford to invest in new screen rubbers front and rear. Just as well that we did!! A parcel from Baines and a visit from the wonderful father and son duo from AB Screens and we were proven right to do the job when we did. The old rubber broke up into a million pieces when removed – probably the originals. Now she looks great again and, unlike our trip up from Devon when we were treated to an 80 mile shower from the plethora of leaks, we will hopefully stay dry in the next rain storm!
Next step was to start cleaning. The step area was really untidy so to make things easier, we decided to take the doors off. Nicely seized nuts (painful!) succumbed to the junior hacksaw and the doors were removed. Now we could see the job in hand with an extra benefit that Royston's paintbrush could do its work with the doors laid flat. Close up, we see that the door nose rubbers are split and the brushes on their bottoms had seen better days. More searching the web but nothing on ebay for such items I'm afraid! At least we can stop the rearmost door from flapping in the the breeze when shut with refurbished top and bottom bearings. Removing the doors does wonders for access to the nooks and crannies of this area so here we go to the next step……..
We've started the biggest job – cleaning the interior. With an industrial strength cleaner and a good quality scrubbing brush – have you tried to buy a good quality old-fashioned scrubbing brush lately, impossible, except for ebay of course!! The cab area and steps are complete after a ton of elbow grease on the floor and Brillo'd aluminium panels in the step area. What a difference it makes! Now the rest of 9's 36 foot length floors to go!
The next job following cleaning is to refit the doors and clean the upper exterior brightwork and paint in those little red coach lines all around the bus (I'm beginning to thing about buying shares in Brillo!). A good wash and polish, black tyres, a tank of liquid gold (some call it diesel) and clean glass and she's good to go!
Our target for completion is attendance at the AEC Centenary rally at Newark in May along with 524.
And before you purists notice and more importantly, complain: we know that these vehicles never had 'dustbin lid' rear wheel trims or an AEC badge on the front grille! But 9 is ours: we like the wheel trims (they match 524) and the AEC badge is fitted in defference to the Centenary – so there!
A range of pictures of work on 9 and 524